"The pandemic shutdowns began to have a significant effect on Kansas home sales activity in April," said KAR president, Marsha McConnell with Plaza Astle Realty in Hutchinson. "Newly listed homes were down 37 percent compared to 2019, while new contracts for sale were down 30 percent. Closings will likely show more substantial declines in the the months to come, as closings typically occur 30 to 60 days after the contract is written."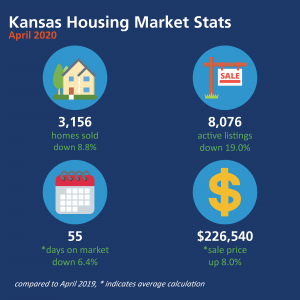 April 2020 Market Highlights
Home sales in Kansas fell by 8.8% percent in April 2020 compared to the same period last year. National sales fell with sales falling 17.2% over 2019.
Home prices continue to increase across the state. The statewide average sale price in April was $226,540 a 8.0% increase compared to last year. Midwest prices rose 9.3% and US prices rose 7.4%.
Mortgage rates are going down. The national average commitment rate on 30-year conventional mortgage for the week ending May 15, 2020 was 3.24%. View Freddie Mac's report.
To view March stats, click here.
For a national perspective, click here to watch NAR's new "Housing Minute" video update.